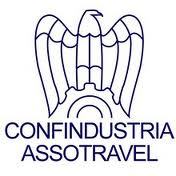 ASSOTRAVEL
Vivere Pantelleria in 2011 became a partner of Assotravel.
Point of reference for those involved in serious and professional ethics, Assotravel is the trade association of brokerage firms and holiday travel, member of Confindustria, and Federturismo Federexport.

Assotravel is committed to addressing the challenges of the sector with industrial approach, this term a proper mindset is intended to result in a precise direction of Association activities.
ASTOI
Formed by the merger of ASSOTOUR and atoi, the two associations of Italian background in tour operating sector Federturismo Confindustria, Astoi (Italian Tour Operators Association) is a trade association representing high, which has a constant discussion with the local counterparts in all major European countries and the most important non-governmental organizations related to tourism, first of all the MTO (World Tourism Organization).
ASSOVIAGGI
The Italian Association - travel agencies and tourism, represents and defends companies in the European institutions and national policies on tariff, travel safety, integration of transport policies.
It also promotes the participation of tourism on the stock exchanges and training and retraining of travel agents, both for courses IATA ticketing and marketing company.